In partnership with Andrews Bowen, a world leader in their sector, Global Venue Services can via its banking partners offer finance for three key areas:
Equestrian Finance
Sports Pitch Finance
Horticultural Finance
Our Simple 5 Stage Process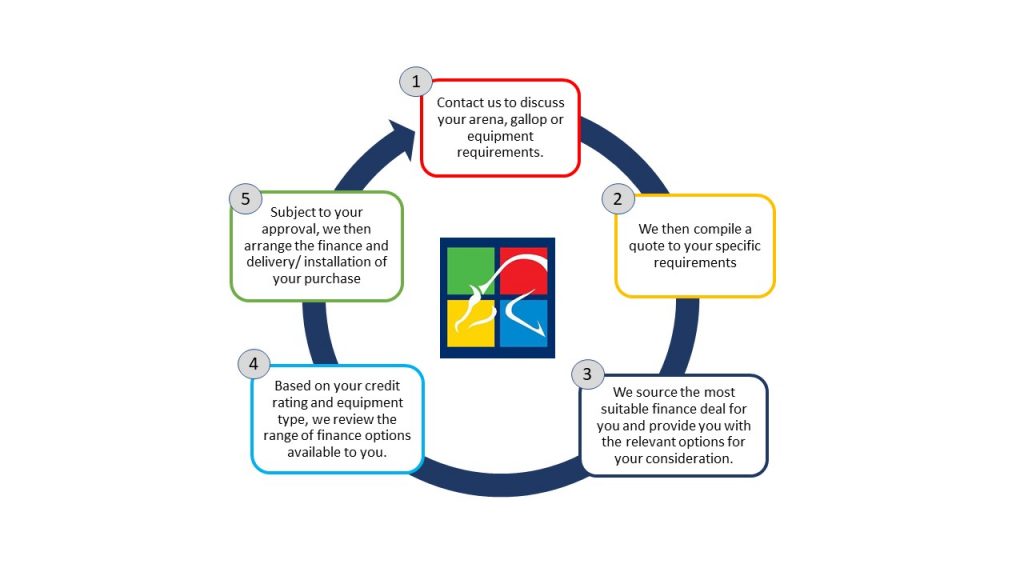 What makes us different?
Industry specialists – both in the financial and equestrian sectors. Our enhanced understanding of your exact requirements ensures that the detail required in your product and financial arrangement are in experienced hands.

Whole of Market – we work with a wide range of providers, many of which are household names with a wealth of experience in tailored financial agreements.

Competitive rates – the providers we work with are aligned in our drive to find you the best financial deal.

Flexible Lending – our finance specialists can build an arrangement that is specific to your requirements and required time period.

Dedicated support – our clients are at the centre of everything we do. From financial support to product support, you can be assured of a service that lasts long for many years to come to help you achieve your goals.
Equestrian Finance
Are you considering expanding your equestrian business with the addition of new competition facilities, training facilities or new equipment and looking to spread the cost rather than compromise cash flow?
Global Venue Finance in partnership with Andrews Bowen, are now offering a whole of market flexible approach to asset finance in order to provide businesses, limited companies, schools, sports clubs and equestrian centres access to expansion without the need for lump sum investment.
To investigate whether a finance arrangement is suitable to your individual requirements and business, contact us on 01995 672103.
Finance – Arenas and Gallops
In partnership with Andrews Bowen, our 'one-stop' solution for gallops and arenas is a first for the equestrian industry. The GV Finance service extends to all of Andrews Bowen's surfaces, including their BHA approved SafeTrack racetrack surface.
All installations will benefit from Andrews Bowen's Equaflow base, which not only reduces the need for substantial groundworks and drainage but also means the arena/gallop can easily removed and reused at another location if required.
The uniqueness of their surfaces means that not only are they fully removable and reusable, but a fully serviced option is available to the customer to increase the lifespan of the gallop/surface.
Their in-house specialists will work with you to define your exact requirements and understand your objectives prior to any financial application is made.
Finance – Auxiliary Items
In addition to arenas and gallops, GV Finance are also able to provide finance for a large number of luxury auxiliary items that require a capital investment. They include:
New Horseboxes
Horse Walkers
Water Treadmills
Water Walker
Stabling
Equestrian Facility Building
Sports Pitch Finance
The versatile application of Equaflow makes it the ideal choice for event arena and pitch bases. Currently found under sports pitches such as Anfield, home of Liverpool FC and Tottenham Hotspur at their new state of the art stadium, Equaflow is suitable for all levels of sport. Not only does Equaflow provide a high-quality revolutionary base, it also can also harvest rainwater to supply other facilities on site.
With no excavations necessary and manufactured from recycled material, this patented environmentally friendly base is suitable for both installation under sports pitches within stadiums or on outside grounds. The modular design offers excellent adaptability to cope with any terrain and the permavoid modular high strength plastic structural 'blocks' have a high tensile lateral interlocking tie arrangement to create a structurally competent raft.
Equaflow not only provides a stable and environmentally friendly base to your sports pitch, but it also acts as a full bed water management system that can harvest rainwater to supply other facilities on site or retain water to provide irrigation to the pitch above.
For further information on our Equaflow or our Sports Pitch Finance offering, contact us on 01995 672103.
Equaflow Full Bed Water Management
Highly consistent factory formed sub base

Minimal levelling of site base required

Large attenuation capacity available in order to withstand a 100 year storm event without compromising the surface layer. All discharge controlled and reused to irrigate surface, sent to storage or controlled discharge

Capable of storing water for other uses e.g. grassland irrigation, wash down areas, toilets

Wicking technology maintains optimum moisture content in the surfacing

Around a 20 fold reduction in truck cycles

Manufactured from recycled materials minimising environmental impact

Modular design offers excellent adaptability to cope with any terrain by providing upfill where required utilising Permavoid modular high strength plastic structural 'blocks' that have a high tensile lateral interlocking tie arrangement to create a structurally competent raft.
Horticultural Finance
Green spaces are becoming more and more scarce, particularly in inner cities, however the addition of Equaflow as a base for horticultural environments in both rural or urban settings has opened up opportunities for sustainable supplies of water to both the horticulture above and onsite facilities. The lightweight base allows for installation in all areas regardless of size and location.
For more information on how a finance agreement and Equaflow can assist you in achieving your horticultural haven, contact us on 01995 672103.